Hello its me again...
Well, I must say that the last few weeks have been really interesting and super fun, even though a little cold at times. Also lonely because there were no ACVW's anywhere that I went. I did see some interesting cars though.
Keep reading and I'll tell you all about it.
After my adventures with Fig, I met up with a lovely girl names Monique. She told me that we were going to go on a ski holiday to France and Switzerland with an old friend of mine, Tony Z.
Here is a picture of me with Fig and Monique at the airport where I met Monique.
From there, Monique and I went to a small farm where I met her 4 dogs.
These dogs are Siberian Huskeys. I was surprised to learn that they are actually bred for cold climates and couldnt understand why they would be living in South Africa with it being so hot during summer. I was later told that the dogs can adapt to the climate and it isnt too bad for them in summer - as long as they dont excercise.
This is me with the Kennel Signboard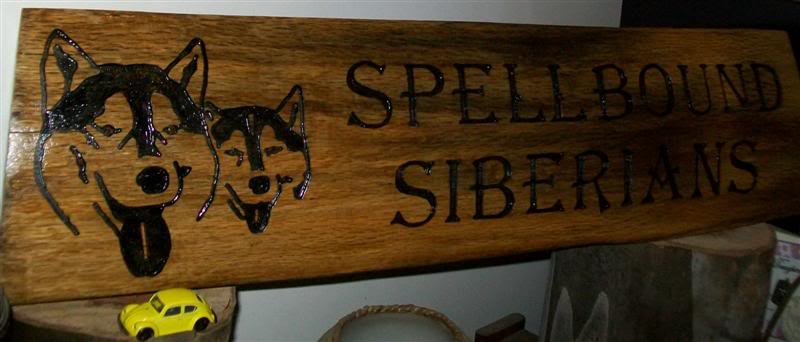 Here is a picture of the oldest dog, Tracer just before he tried to bite me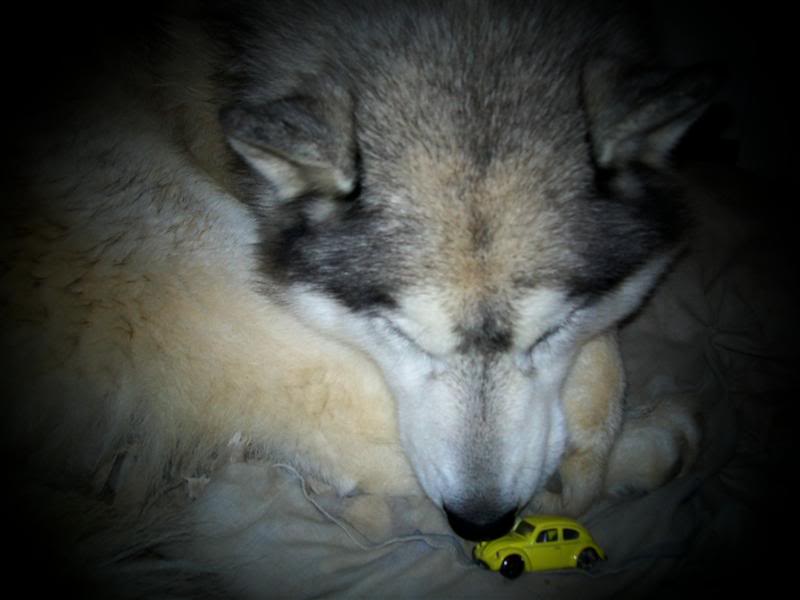 Here I am with Troy, the baby - he is so fluffy that I almost couldnt drive through his fur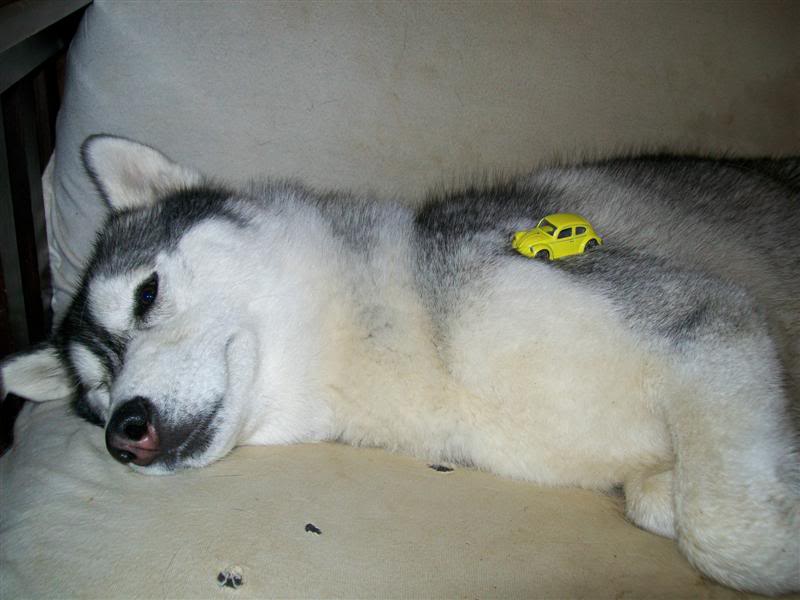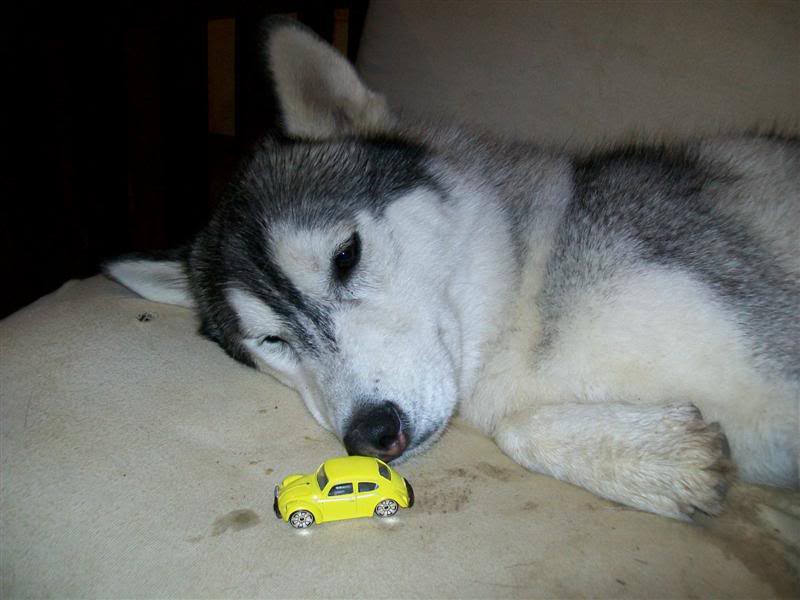 And this is me with Nikki - I dont trust her with those eyes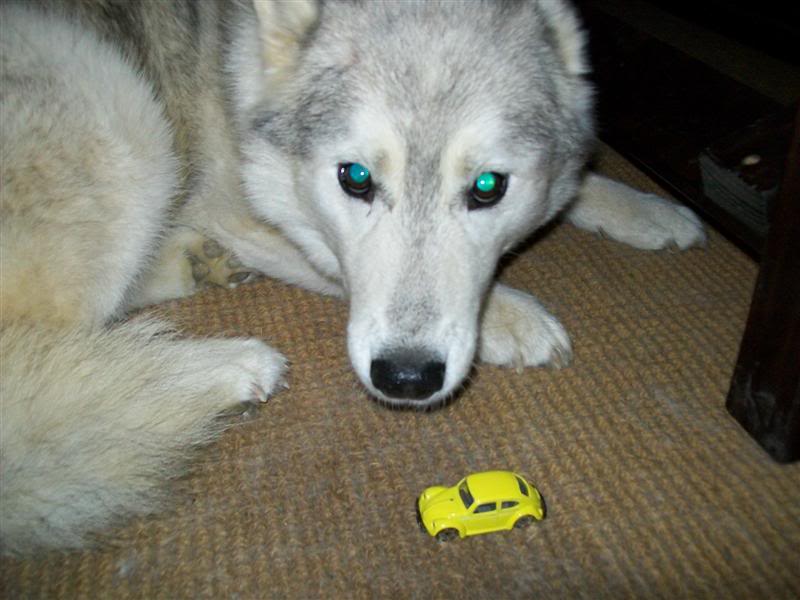 A few days later we travelled off to meet Tony Z in Geneva airport. From the airport, we climbed on a train heading to a small village in Frace called Chamonix. I had never been on a train before, so I was rather excited about this new adventure. The train is like nothing I have travelled in before. It is as big as a truck but much much longer. But still only driven by 1 person. But the trains all drive on tracks and follow certain routes, so to get to Chamonix we had to change trains 4 times.
On the last train I met the driver. He spoke the same language that I heard when I was with Zeroaxe, namely French. Very funny language. But I started telling the driver who I was and where I had been. He was so impressed that he let me drive the train for a short while.
Here is the train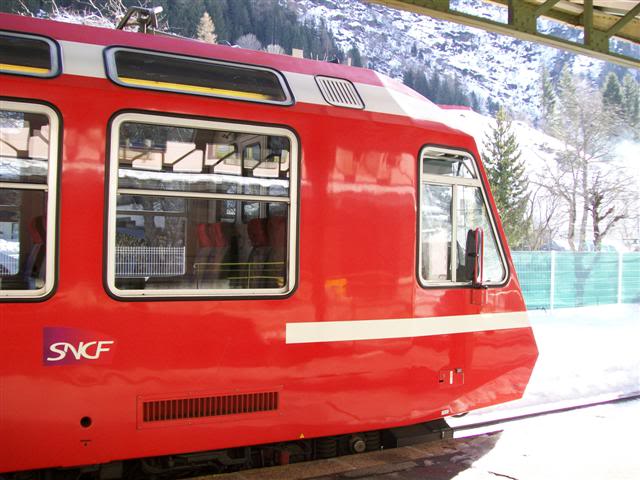 Here I am driving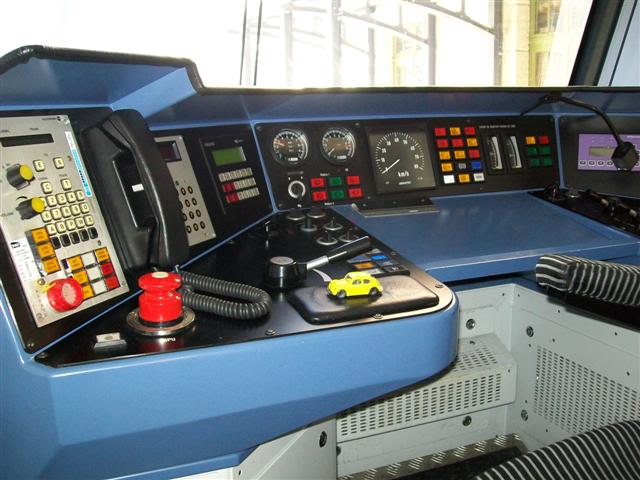 The next day after our arrival Tony Z, Tony's father and I went skiing.
This is a funny sport where people go into cold climates and put planks onto their feet. Then they slide down the mountain and try not to fall. You are sliding on this icy thing called snow. It looks white and fluffy but can be really hard. Under the snow is either rocks or ice. I was told that snow really is nothing more than rain that freezes before it reaches the ground.
I dont really understand this concept. I was intruiged though, so I gave it a try and it really was fun (and dangerous even though both Z's say otherwise).
Here I am on the snow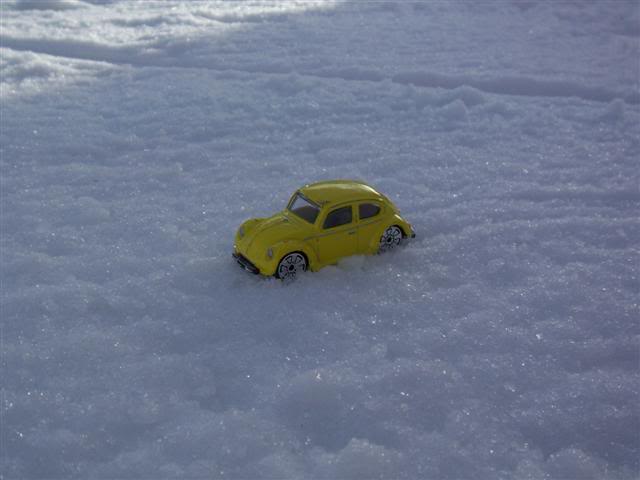 and trying on my own skiis - they didnt fit too well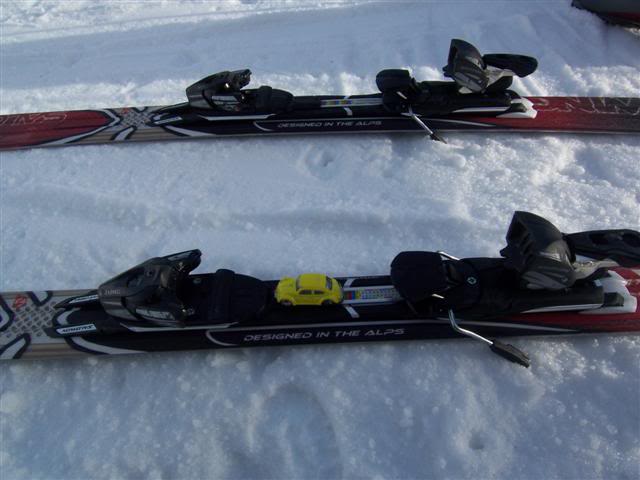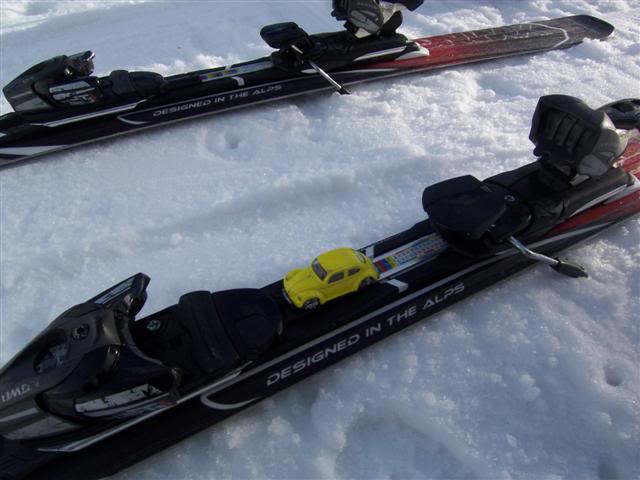 After a few days of this crazy sport, we all took a day off and went sightseeing.
We caught a cable car up to a mountain peak called "Aguille de Midi" which is 3842 meters above sea level. This is really high up and the air starts thinning so high up. Any activity more stressful than walking makes you dizzy and makes your engine idle at 5500rpm to keep your oil pumping.
It was also super cold up at the top of the mountains - with the wind making it -26degC.
Here I am at the top with both Z's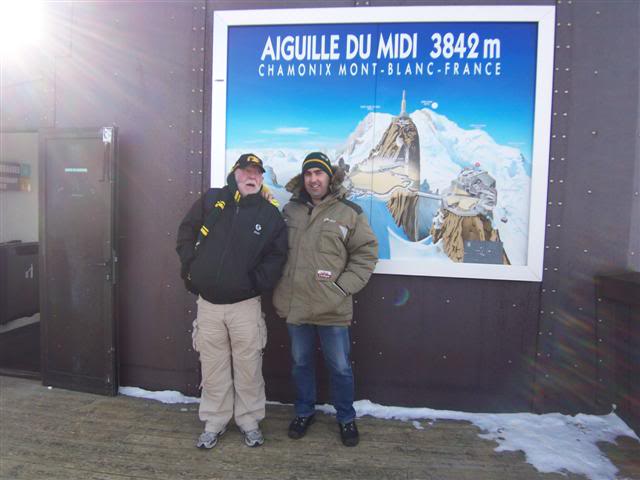 Then wee took some more pictures of me posing with the Alps in the background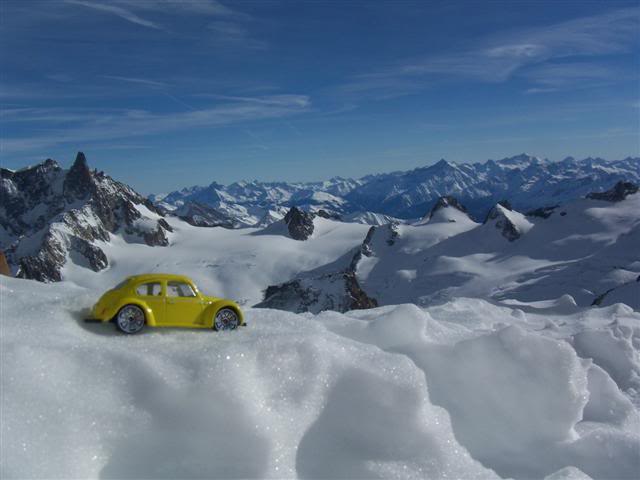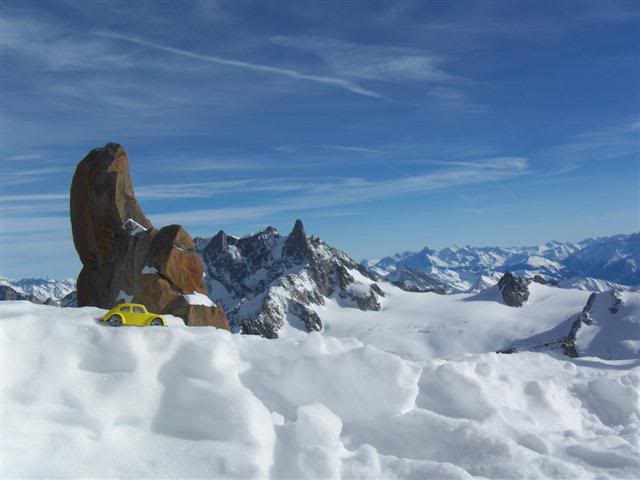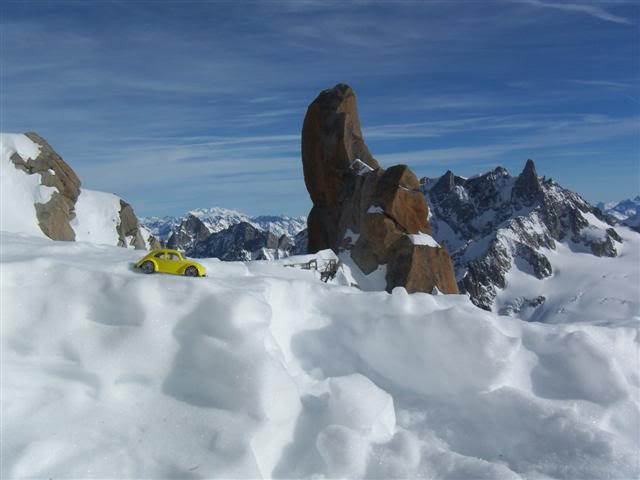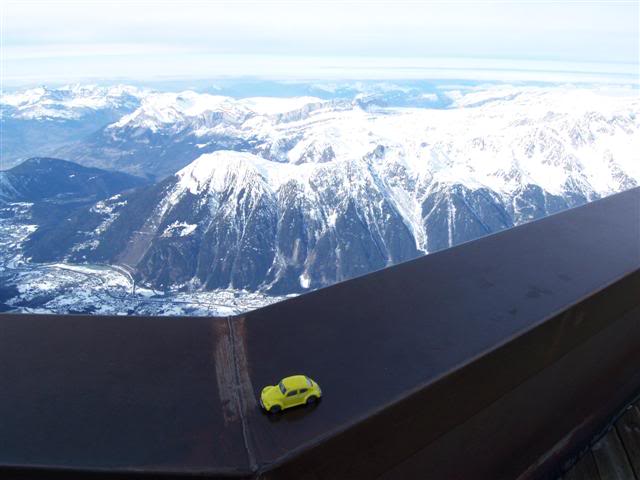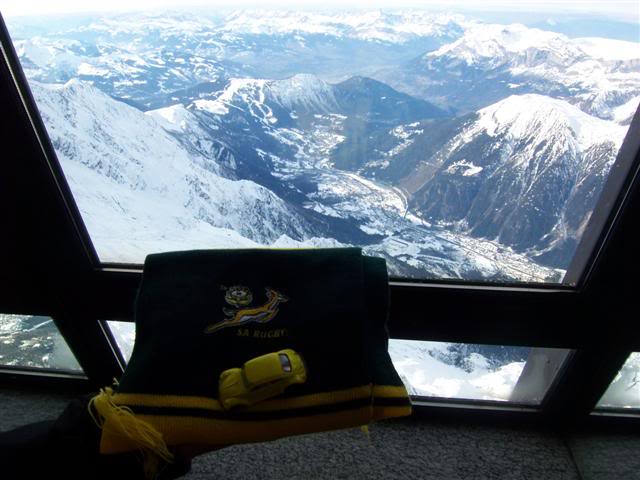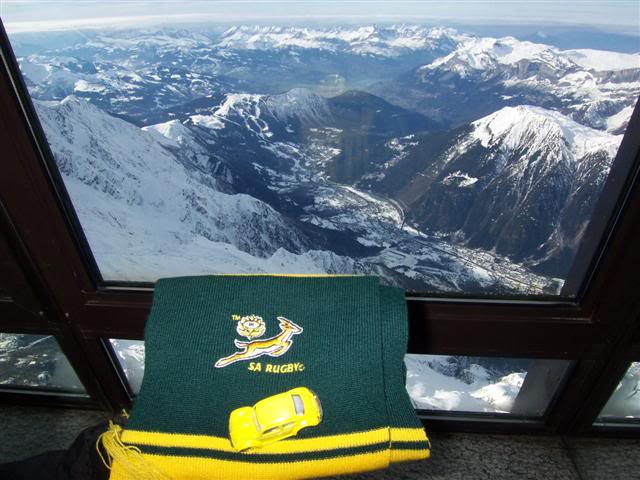 You see, even when travelling I still support my home team.
Then it was time for some exploring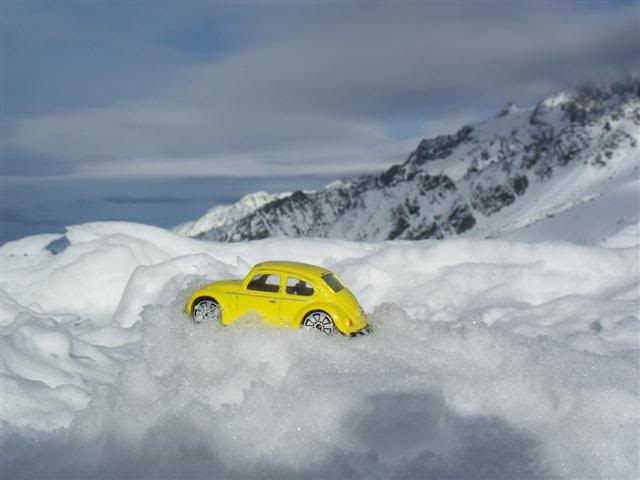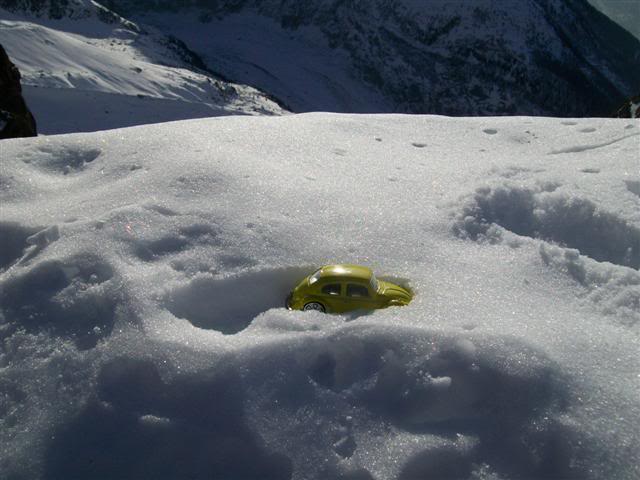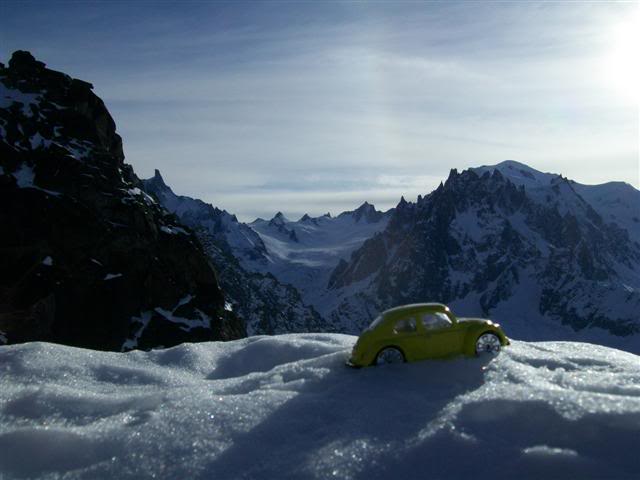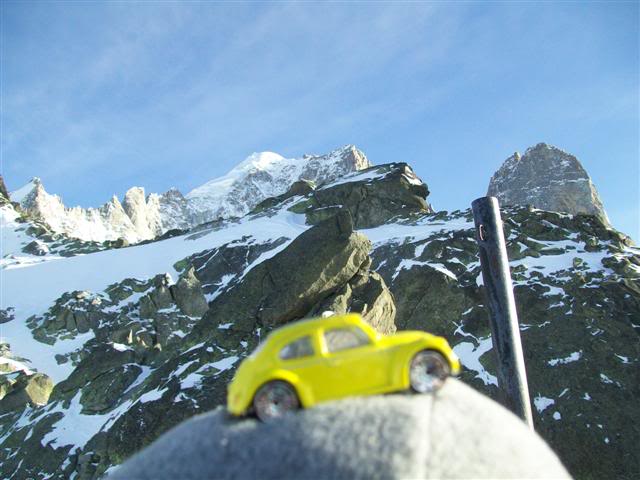 I tell you what - driving in the snow is cold enough to make your dipstick nearly fall off.
Later that day while we were walking through the town I we spotted a sweet and chocolate shop. I was then told that this part of the world is known for their chocolates. Wow, look at this window.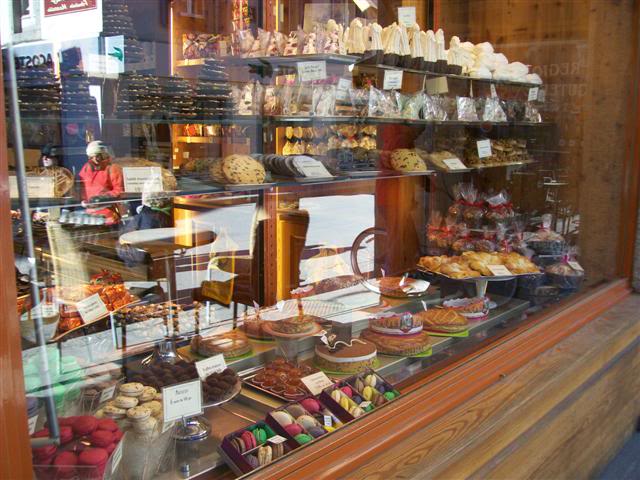 Luckily for me I didnt eat too much cause I am sure it is very easy to overfill your tank on these nice things so much that your chassis starts to collapse and you get a few flat tires.
We also saw a glacier up close.
Here it is below me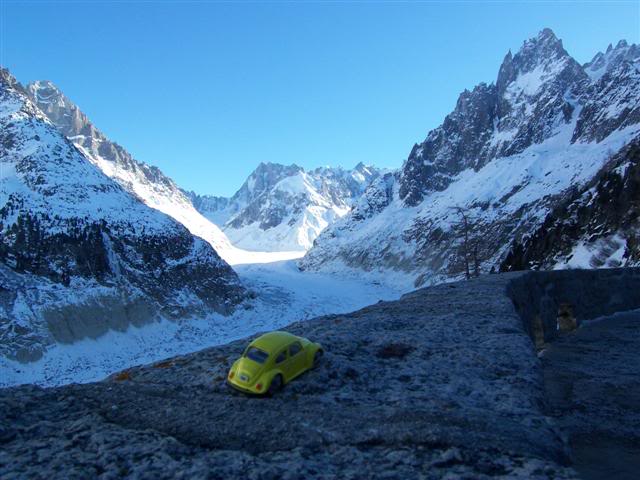 This glacier moves down the mountain at a speed of 1cm per hour. We didnt stay long enough to see it move because it was so cold that even the cameras stopped working.
From Chamonix we caught 3 trains to our next destination - the small town of Zermatt in Switzerland.
There is something wrong with these people here - the Swiss people must spend way too much time up here in the mountains.
I was also told that Old Man Z was born in this part of thw world and this is why we are here - it is his last visit to Europe so this is a trip down memory lane for him too, not just a ski holiday.
In Zermatt I saw these very strange cars.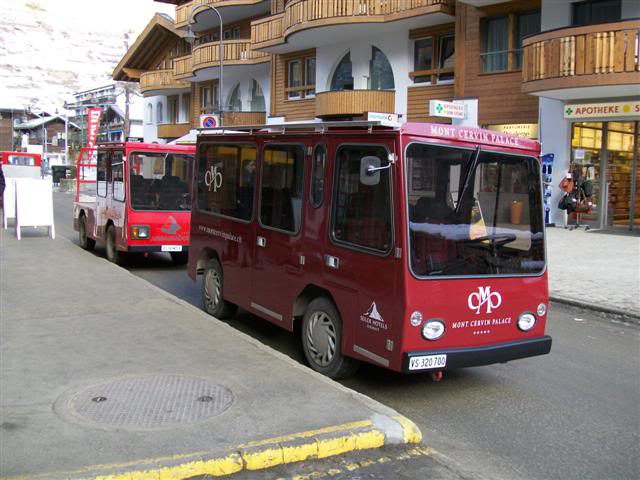 Apparently, no petrol or diesel cars are allowed in this town (except Police, Ambulance and Municipal vehicles), so the cars here are all funny box shaped things that are battery powered. It works pretty well, but you dont hear them coming so you sometimes nearly get driven over. Some of them have bells hanging from their bumpers so others can hear them coming.
I also saw a odd looking Police car which was obviously made to go anywhere in any weather condition.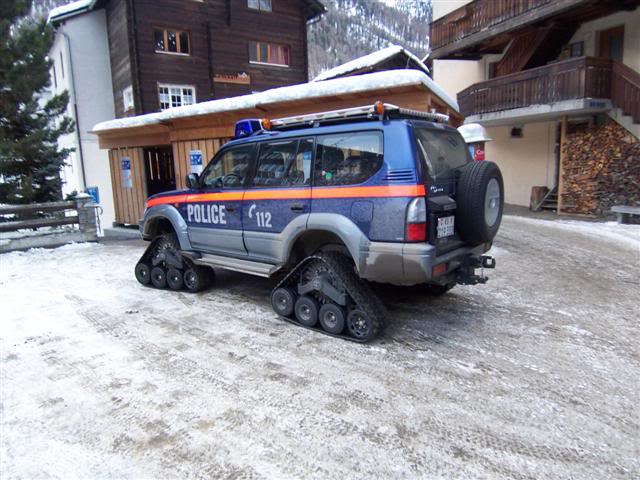 The town of Zermatt is most famous for its mountain - The Matterhorn. It is well known as a symbol for Switzerland and also appears on many Swiss chocolate wrappings.
Here I am posing under The Matterhorn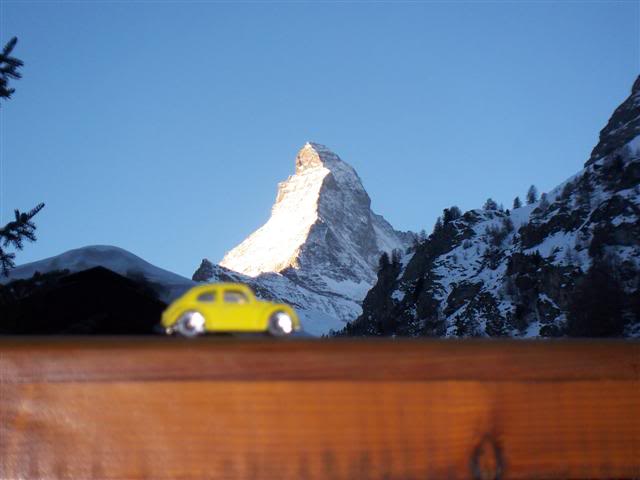 During one of our ski sessions, I posed under The Matterhorn again, this time on a nice little rock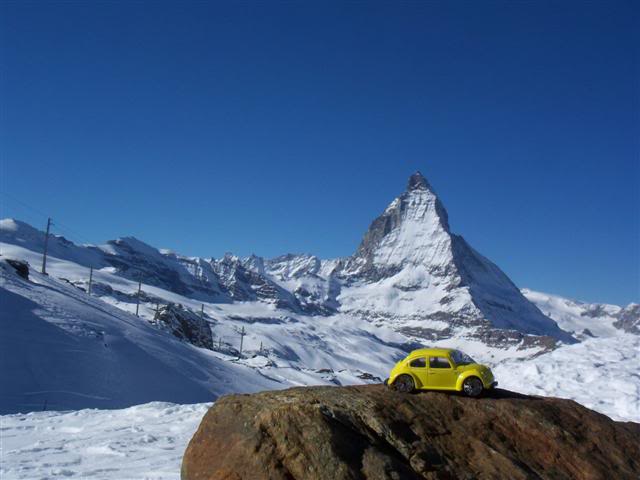 As I was getting good at this ski thing, I told Tony Z to watch as I did a backflip
Here it is as I start and land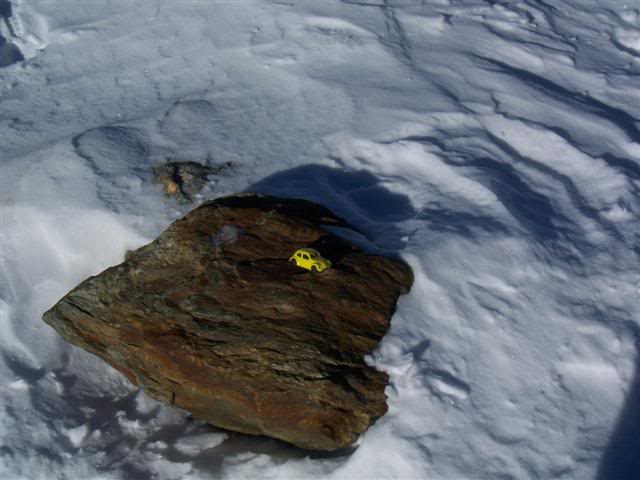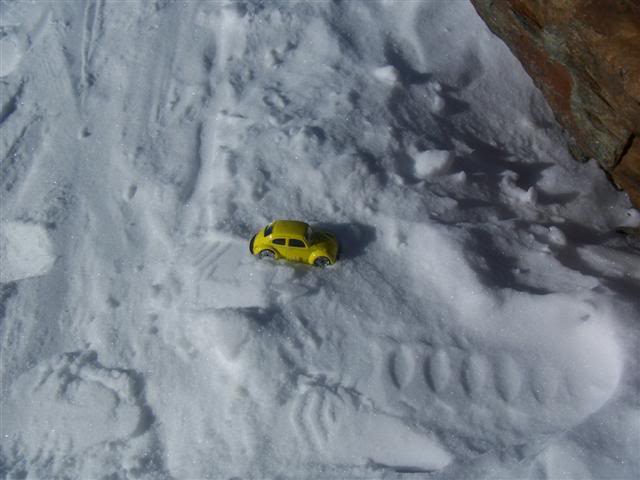 it all looks good up to here (good timing with the camera) but this backflip continues partially down an Alp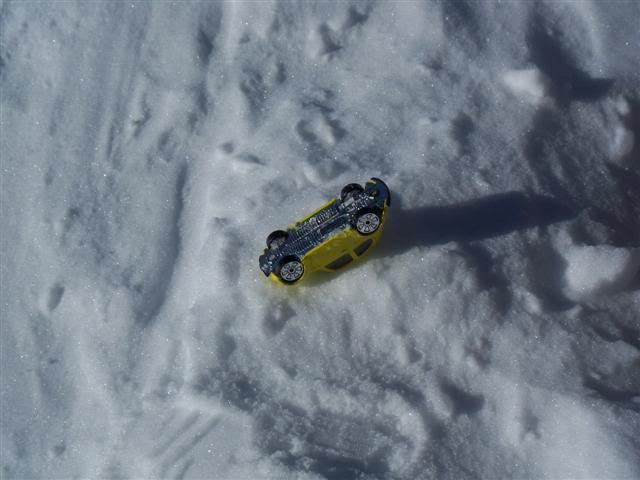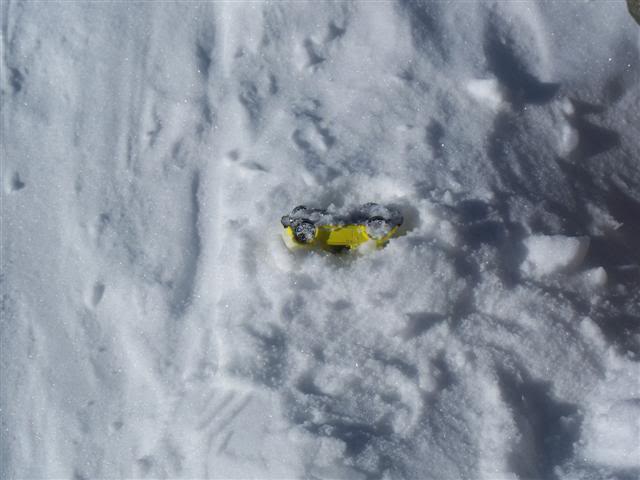 After getting half burried and was no-where to be found, a rescue team was called in. After being found and helped back to safety, we took a photo of my rescuer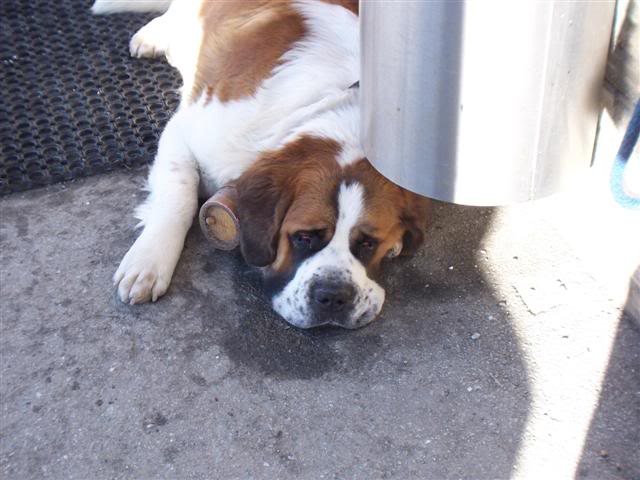 The rum really does warm you up nicely.

I had to take a few more pictures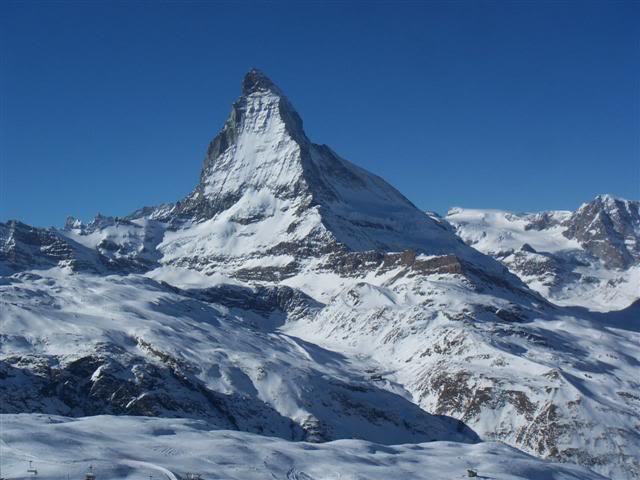 And then on our way down the mountain we found a big Swiss flag and decided to stop for one last photo
Look carefully and you can see me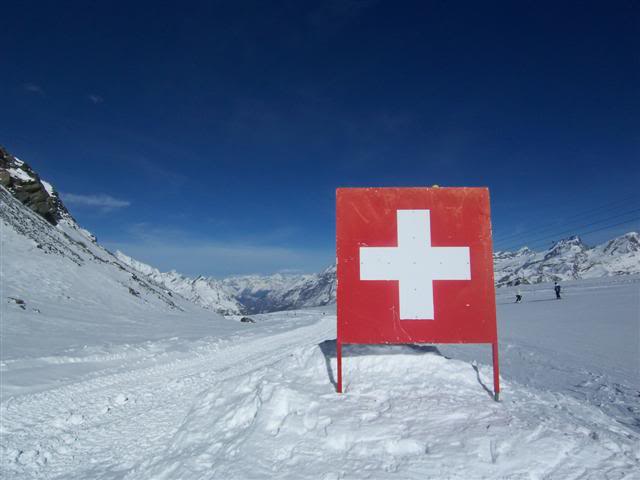 Dont you believe me? Look again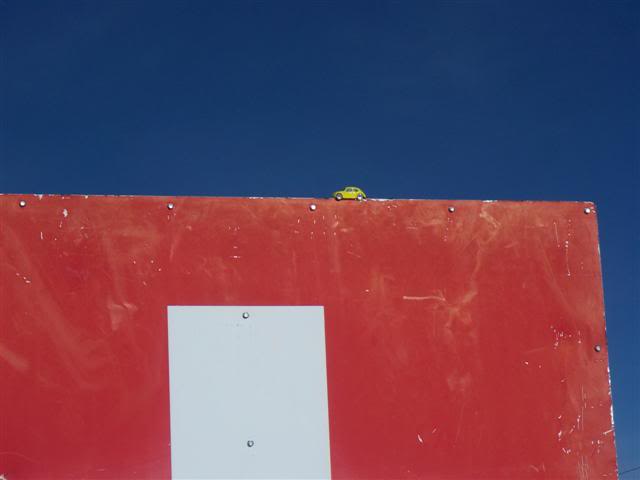 Sadly, this was now the end of our holiday. A few trains later, we were at another airport and 14 hours later back in Johannesburg International airport.
I wasnt feeling to good. After my stupid backflip, my gears were grinding a bit and even synthetic oil wasnt helping me select gears properly.
Tony Z then rushed me off to Bugger for a diagnosis.
Bugger informs me that I "split my diff" whatever that means, and I would have to stay with him for repairs.
Tony Z then said goodbye to me and left me with Bugger. After my repairs Bugger will be taking me on a road trip to George for a massive classic car show where I will meet Tony Z and Monique again and also many many forum members, their cars and lots and lots of other old cars and maybe even some toy cars like me.
Keep watching this space for the next episode in my Adventures as I travel the world.
Signing out, Archie the World Famous Travelling Beetle.