Maybe we can compile our own list of colour codes used by Uitenhage. If you are 100% sure that your car still have it's original paint, please provide the code number and official year model (not year first sold). After 1964, third digit of chassis number refers to model year. If total of 9 digits, (example 216 *** ***), the "6" means 1966. Also 318 *** *** means 1968. If total of 10 digits, (example 112* *** ***), the "2" means 1972, and 218* *** *** would be 1978. Obviously first 2 digits is body type.
It may be possible that Uitenhage's seventies paint code numbers are different from earlier ones with the same numbers, but this we will try to determine from our efforts here. Early codes were on chassis number plate. Later ones were on a separate little plate riveted on. On a 1966 car only a letter was found stamped as colour code.
If paint code is 3 digits, and last digit is "0", this means two-tone, where upper part is sand white. Like 050 is code 05 with white upper like a late baywindow.
So far we have:
On a 66 car code "C" was light green.
00- Sand White. (1969)
01- Aster Blue. (1969)
02- Knysna Green. (1969)
03- Mist Grey. (1969)
04- Savanna Beige. (1969)
10- Ultramarine Blue. (1969)
14- Ruby Red. (1969)
15- Java Green (1969)
12- (not sure of official name)- "dark blue-ish"- (1967)
LATER (+ - mid 70's codes):
02- Pale yellow/beige-ish. (1974) (Could differ from earlier 69 "Knysna Green")
06- Light yellowish-beige. (1977)
05- Olive Green. From around + - 1973 and discontinued end of 1975.
18- Dark Brown. (1973).
In 1978 some new colours were introduced. "Glacier blue" was official name for a slightly different light blue/grey-ish, and "Arctic white" was a new brilliant white colour with a minor touch of blue.
In 1969 code for interior was:
55-Red
56-Black
54-Ivory
57-Beige
A 1975 kombi with dark brown seats and light brown side panels was marked 68/67.
This is a picture by Reuben, taken from a booklet Jolas had: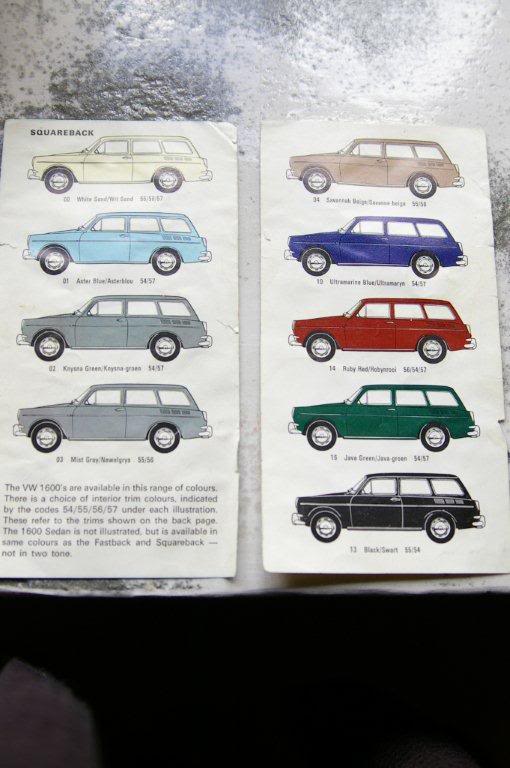 Please post the code, model year and colour description of your car on this thread. (Only if you are 100% sure it is the original colour, and it is an Uitenhage car, not imported).
Later we could maybe move the info to "Codes" under "technical". Ideally, if anyone have more of those official colour charts it would be appreciated if you could scan and post them here.
Please note that at this stage we are only collecting info. This is all we have at the moment, so unfortunately cannot help with questions.
Thanks in advance.
Dawie.