Retrovans Latest Project , Un-Titilled
Edited;- Renamed the tread to the name of the Beetle Truck called MeFusco
So decided to start a thread for my latest Project.

No its final outcome will not be revealed, Yes I will tell you what I am collecting and and No I will not place photo's till its done and recognizable.
Yes Sean, there will be a lot of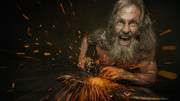 No will be using scrap parts so as not to deny someone a project.
So here are the parts I have so far;-
Rusty Beetle Body (road side display saved)
A type 4 2lt motor in sorry state
Type 4 Gearbox in unknown state
4 Pro-white rims with 195x 80R / 14 C tyres
Renault Scenic Back axle assembly with disk brakes
Opel McPherson struts with disk brakes
Opel steering rack
Corsa Power steering wheel assembly complete
Rusty split bus rear corner units
Lots of Laser cut steel sections.
and an overhead gantry with chain block.
Info collected so far;-
So I will add onto this project list with requests, ask advice and share parts obtained for the project.
Till next time.

Herman