Forum rules
Post only parts for sale here, no vehicles.
Drip
Posts: 30
Joined: Wed May 02, 2018 10:26 am
What model do you have?: Beach buggy
Location: Hermanus
Flag:
Beetle 1.6 parts

Heads
Intake
Carb
Lifters
Crank
Block
Cam
Oil pump
Push rodes
Tubes
Pistions
Conrodes
Flywheel
---
Drip
Posts: 1
Joined: Wed Aug 01, 2018 9:59 am
What model do you have?: 1967 Variant
Location: gauteng
Flag:
Hi there...I'm in a lookout for a flywheel. I have 1967 Variant conversion. I have a Nissan engine in however I'm not sure about the clutch. All I know is that the flywheel must be replaced.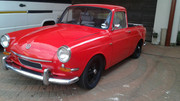 ---
Long Block
Posts: 2814
Joined: Wed Mar 12, 2008 2:26 am
What model do you have?: lwb beachbuggy
Location: newlands,jhb
Has thanked: 75 times
Been thanked: 70 times
Flag:
For a nissan conversion your best place to look for a flywheel will be
www.giloeng.com
---