All ghia owners! And the rest that want to chip in to "adjust" my train of thought
No ! No I am not getting bored yet !!
I want to add a 3rd brake light with led bulb!....to be seen!! I thought of a "pope's nose" number plate light from an earlier beetle,.......of which I acquired a '66 beetle's And the idea is to place it in and around the spot marked in red !!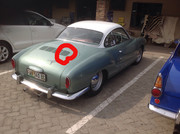 But,.....due to the angle of the decklid sloping down,.....for it to be seen(the idea!). Attaching the pope's nose like that ,.....the light will shine / be seen about a metre or 2 max behind the car! Ok can trim the nose at the top to better line of sight for traffic not my arse ,.....
The next custodian( son) is not impressed with the whole idea of the pope being incorporated,...and is suggesting a "reverse type " light on the bumper behind the driver,......which the 'current' custodian is not "convinced" about.
Has anybody attempted such mod on a ghia or anything else ?
Talk to me!!!
Haans