Hi all,
I need help decoding the details of the plate on my VW Bus as per the image.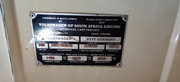 I know based off the Serial number/VIN (240) it is a T2, Micro Bus Deluxe, 1970 - correct me if I'm wrong.
I need help with the model number, V.P.O No. (not sure if this means anything) and paint code (if possible).
The model number is 244, which according the The Samba, is
Cargo doors left, right hand drive, full middle seat
, but I'm not sure what exactly this means? Which seat does the middle seat refer to?
The paint code is 140/A, which does not help me at all.. I understand the there aren't many documentation available on the paint codes, so any assistance will be helpful.
I can add that the seller who re-painted the bus says it is the original paint (pictured). With a white top and (I think) beige body, but I'm not sure if this is correct at all.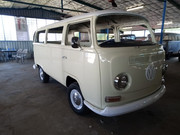 Thanks!