Hi guys.... well, even though I have been here for over 4 years now and have my Suicyde engine build thread, I feel like writing a little about my car and incorperating the engine build thread into it too.
Find the engine thread here:
http://www.aircooledvwsa.co.za/viewtopi ... =23&t=4515
Where to start? The beginning...
I have owned this car since 1997 and it was my first car.
As time and funds allow, she is receiving a make-over. Time is the biggest issue, but I am hoping the next 2 years will have some decent progress.
How much of a history should I post??? Pics first...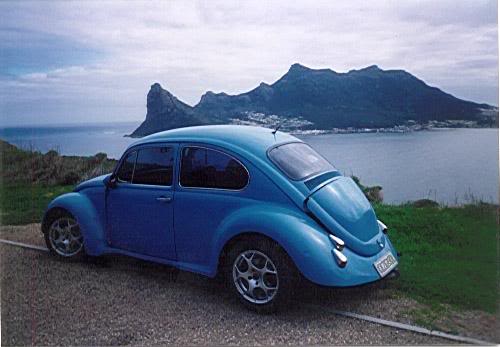 I am pretty sure that some of you have seen here around. The body is very similar to how it was when I got the car, but it has been resprayed twice with a few subtle changes to it. When I got the car... the brakes were dodgy, the gearbox was a wreck, the generator lasted until the first time I drove it at night....
Obvious mods... front suspension lowered, rear lowered a tiny bit. Rear suspension beefed up with the added help of a camber compensator. Disc brakes on all 4 corners, gearbox has a few extra supports.
The 1600 engine I started with in stock form was over time introduced to a new exhaust, then a new carb setup (36DCD twin throat progressive), then electronic ignition. Then after finishing my appy-ship I had a few rands spare (and by this time I has taken over all mechanical work on the car except brakes), so I bought new heads and twin carbs (IDFs). I got the heads cut to raise my CR... from 7.4:1 to 8.1:1. I then did my own port job on the inlets and exhausts. Then I added the pair of 36IDF downdrafts along with a set of K&N air filters and a B.A.S. push-pull linkage. I got into the car, ready to scream down the road only to be horribly dissapointed. Less power than before. OK, nevermind... Off I go to Jesse at Winsor for a dyno tune.
2 days later I pick up the car. Jesse smiles and says I might feel a slight difference. Slight difference my ass.... Day and night - smiles everywhere. The car limped in with 38hp. He said both carbs were setup different from each other. After he was finished, I had a nice 74hp. Hey - it was a lot more than the 55hp the bug had when new - and how many cars boast a 50% power increase for R3000 (including the cost of the new heads and carbs).
I then lost my job and ended up working at Mr Delivery when that engine destroyed itself. Hmmmm, not much money to build a new one. Cam broke - luckily I had a stock cam cause the valves were not in the way. Into my garage. Took it all apart. Pulled a reground cam off the shelf which was given to me - I had no idea of the specs at the time. Put it in, buy new main bearings and put the engine back together. Started her up and gave her a quick rev... HUGE SMILE, this thing now revs quick!!! Took her back to Jesse and he did a power run - 94hp. Now we are talking. 170i VTEC, Golf 3 GTI, 320i BMW - easy pickings from 0-100... turns out that cam was 272deg (stock = 250) and valve lift went up from 8.5mm to 11mm.
Well, that engine lasted 5000km. Cam was a little steep and it broke a cam follower in half. Needless to say, I still drove the car on 3 cylinders for about 1000km. Then parked her and started a new job, based in Europe. This was 5 April 2004.
Pick of the broken cam follower - I never found the rest of it.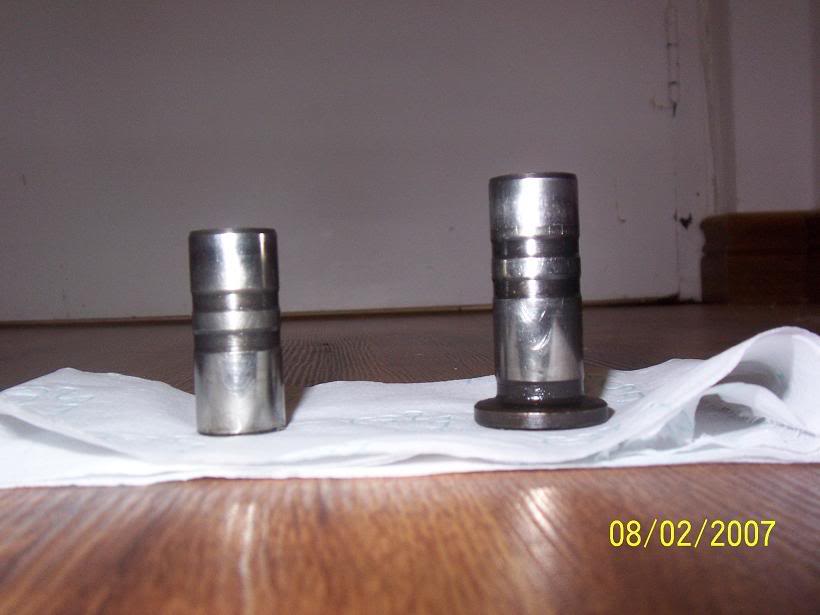 As and when money has allowed, I have secretly been buying parts for my ultimate engine (I now have about 20 ultimates, but kept my mind set on this one - for now

). I bought the pistons in 2001, heads and carbs in 2002, crank and rods in 2003 and pretty much the rest in 2006. I wont go into details on specs, but will let out a few. O yes, this is a street car, not a track car. I have run a few tolerances a little on the tight side, but that was my personal choice and I bought the parts which would allow me to do so.
And for the record - no-one but me touches my engine. I designed it, I bought it, I built it. The only thing I didnt do myself during the whole engine build is the balancing and flywheel mods.
Some pics of the engine build....
Heads... this is where the inlets ports started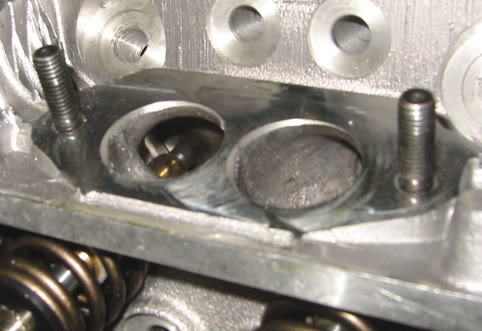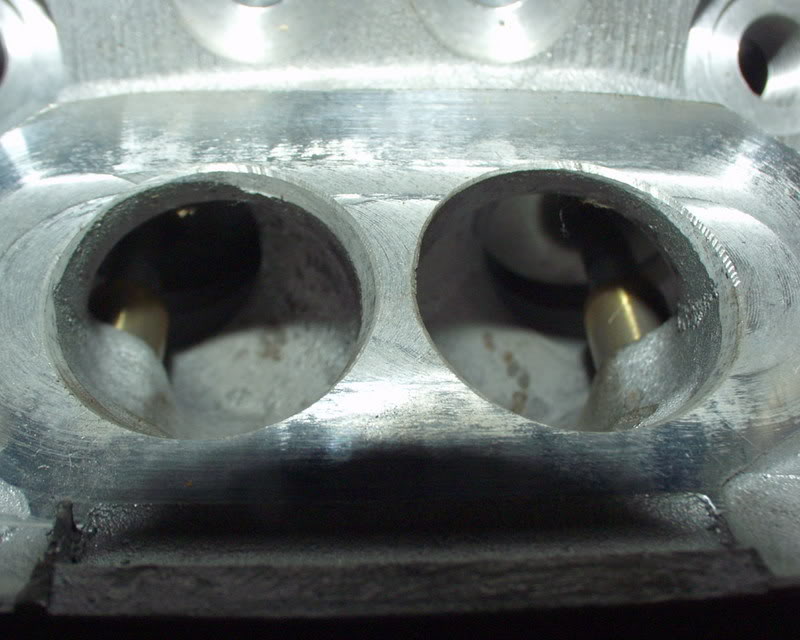 and then I spent a heck of a lot of time porting them MYSELF - in total nearly 15 hours per cylinder excluding the mainfolds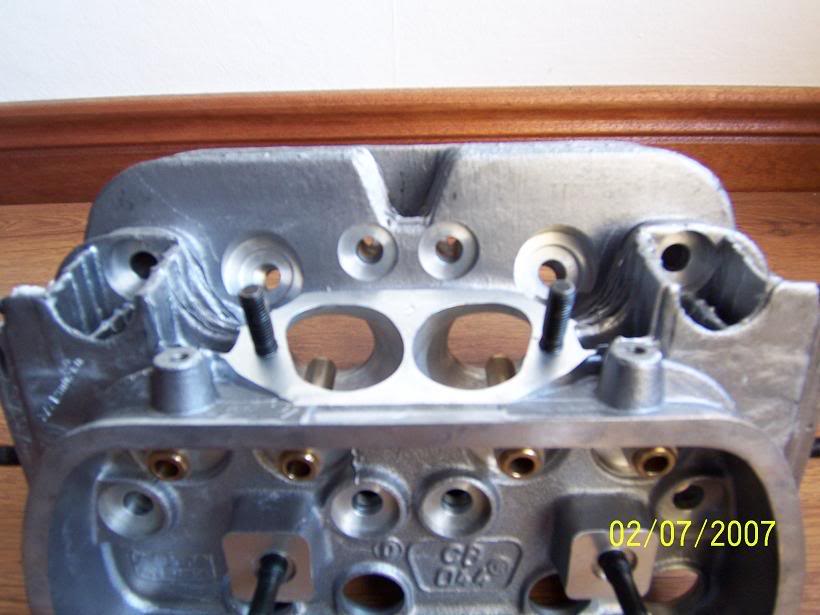 Manifolds - I dont have a finished pic, but you can see the markings from the stock size ports to the larger ones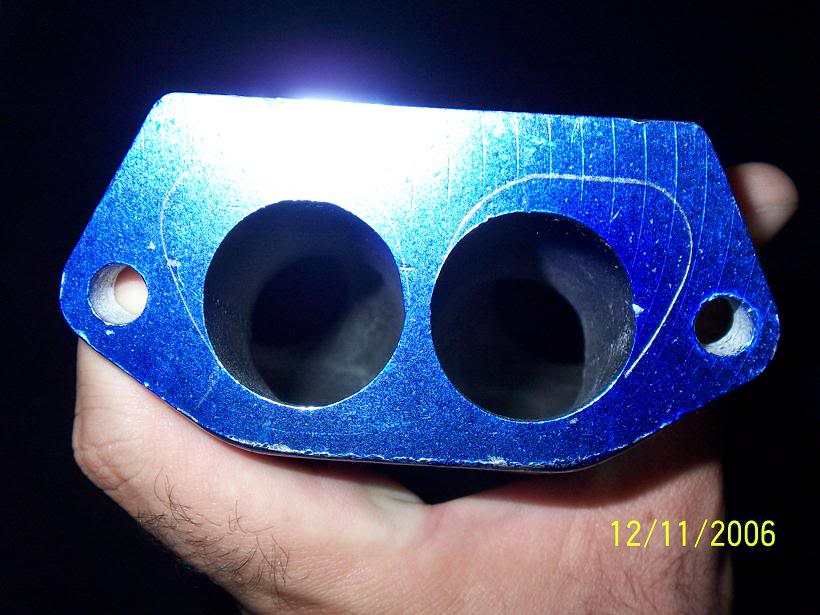 Chambers - valve size went from 35mm inlet and 32mm exhaust to 44mm inlet and 38mm exhaust.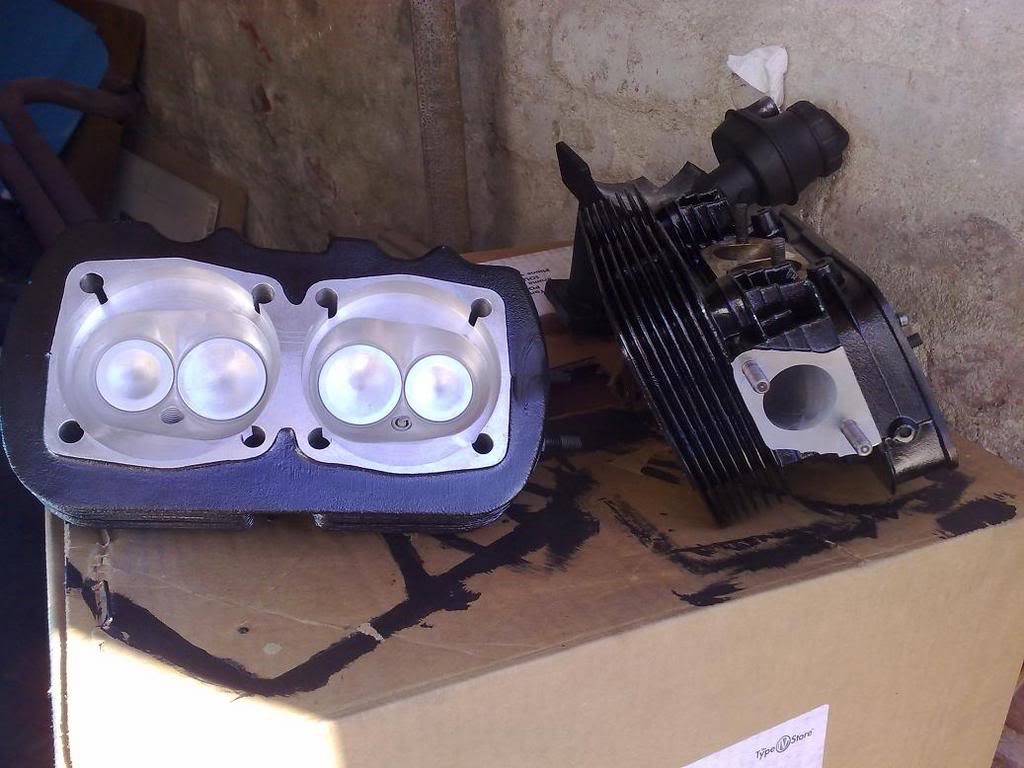 Rotating assembly - check my piston to crank and opposing rod big end clearance issues (boxer engine remember) - I had to file down the piston skirts to get a clearance of 1.5mm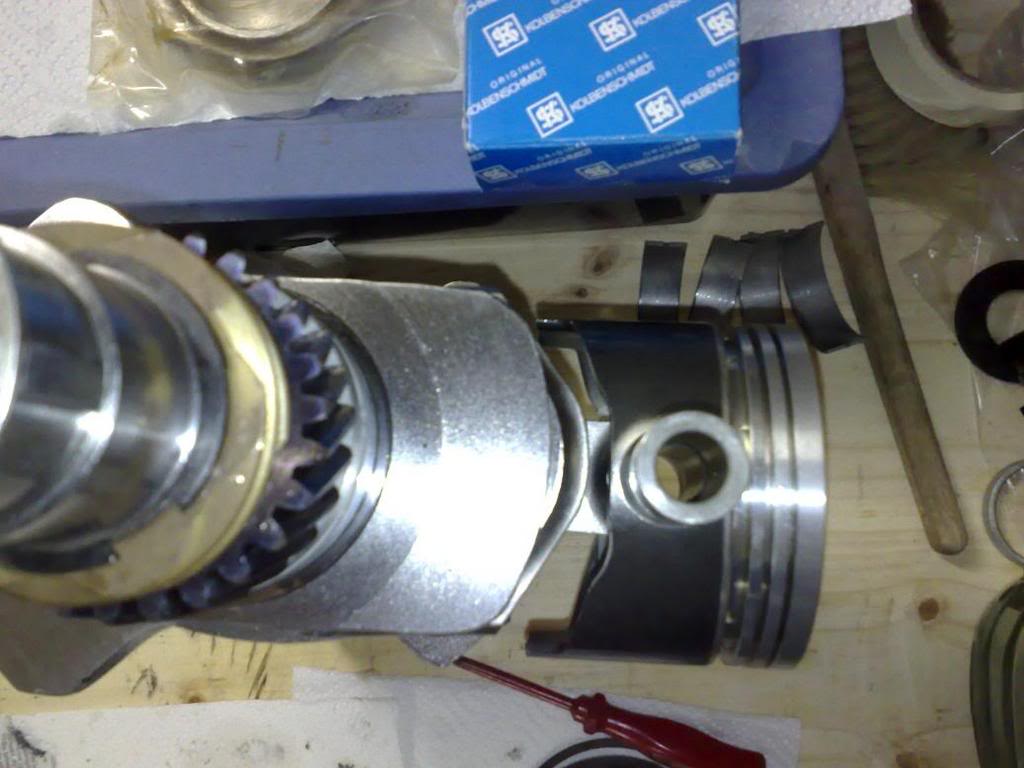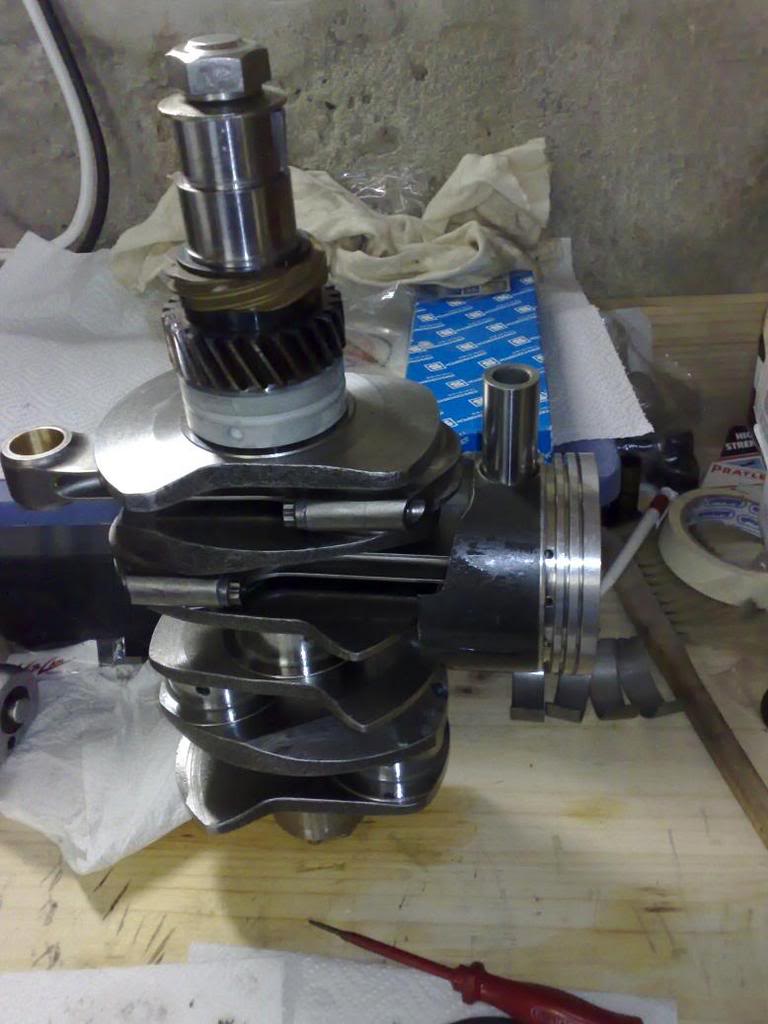 coming together - lubed up with moly for running in....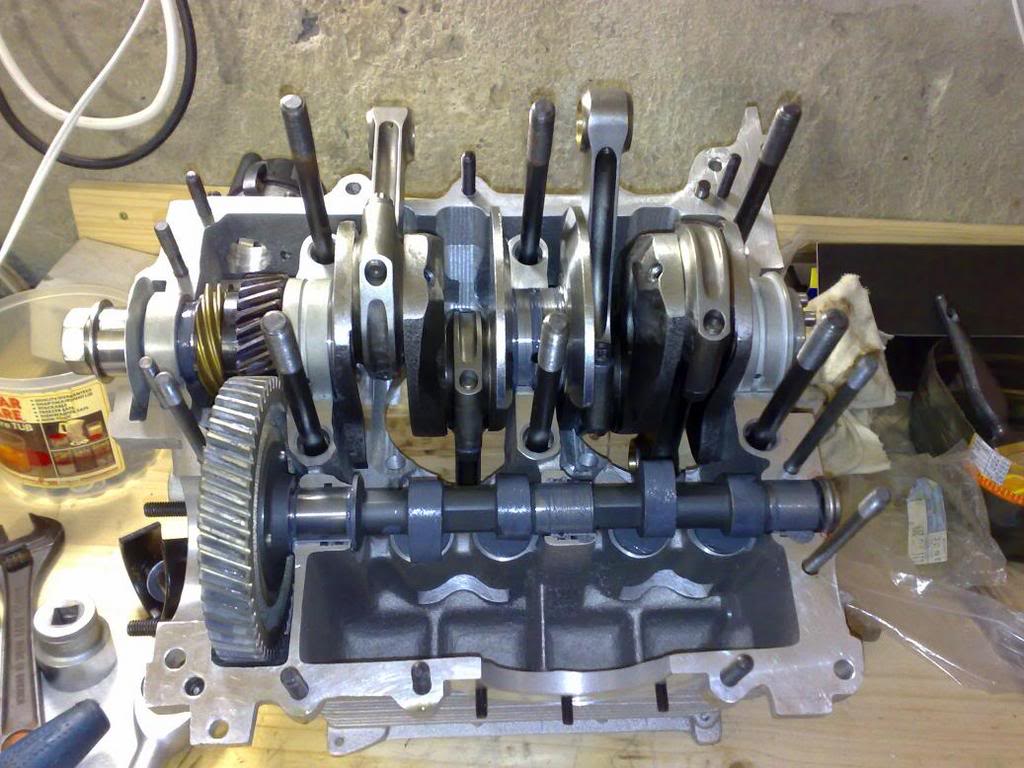 Sub assembly complete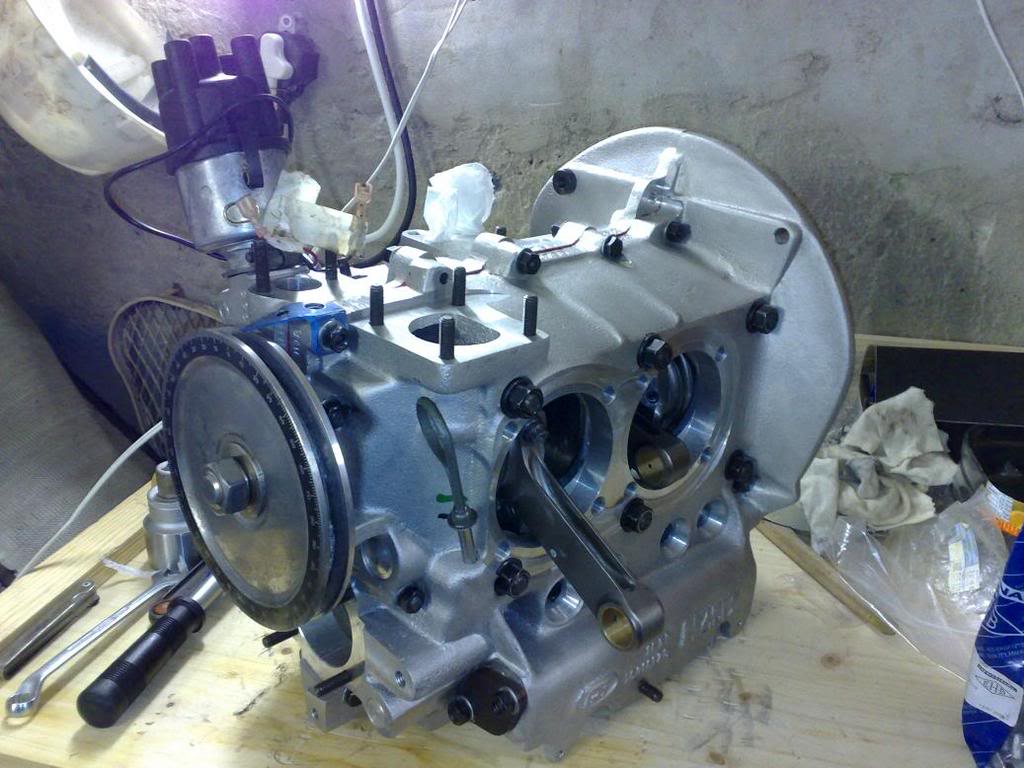 clutch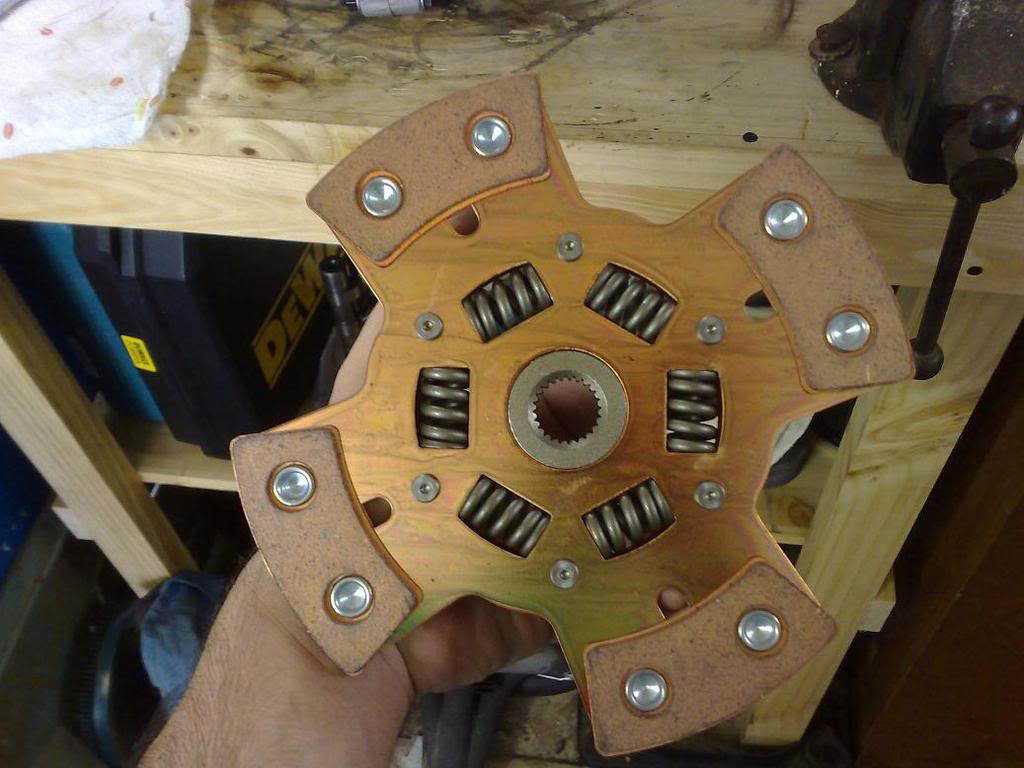 Barrel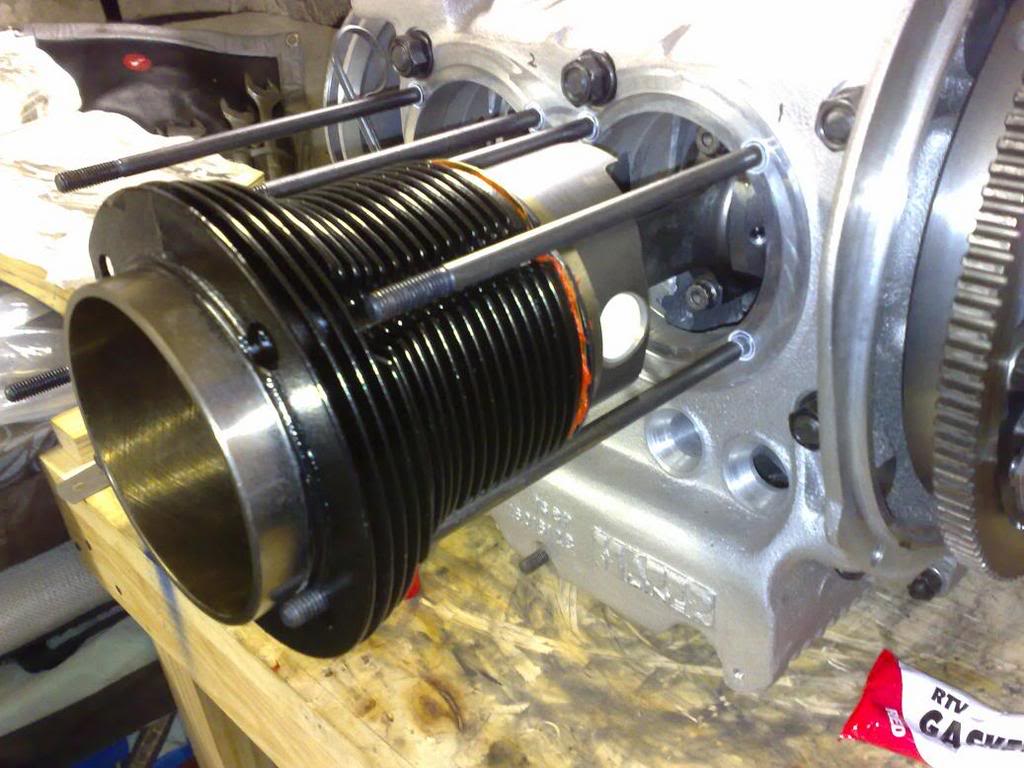 Short block complete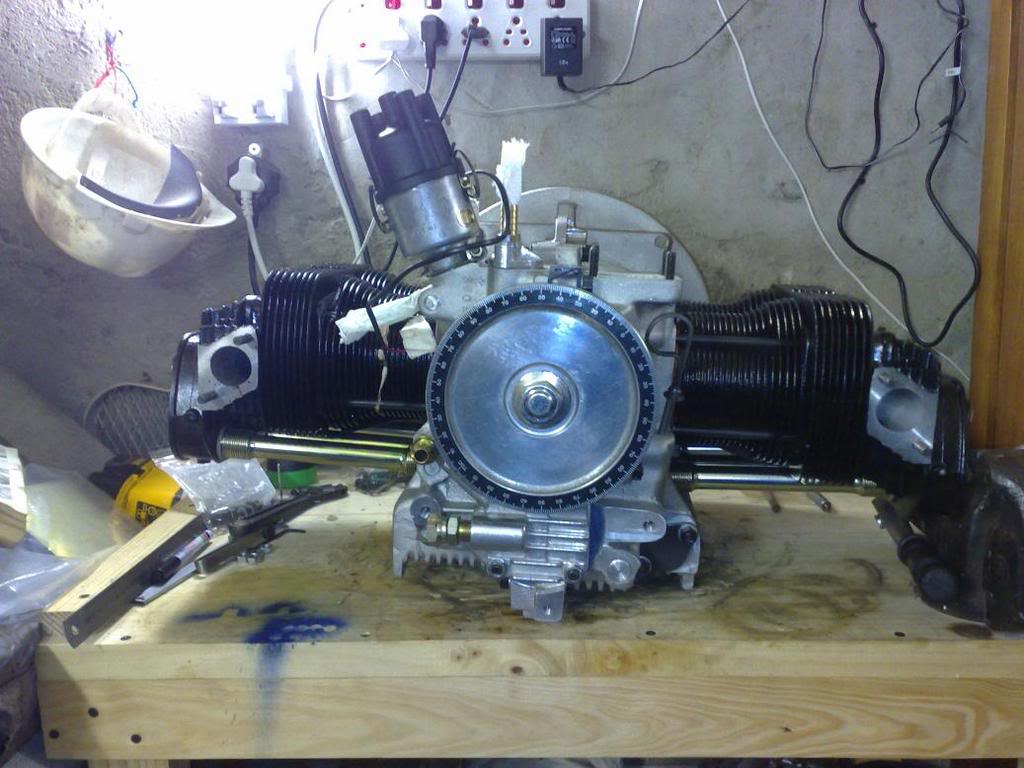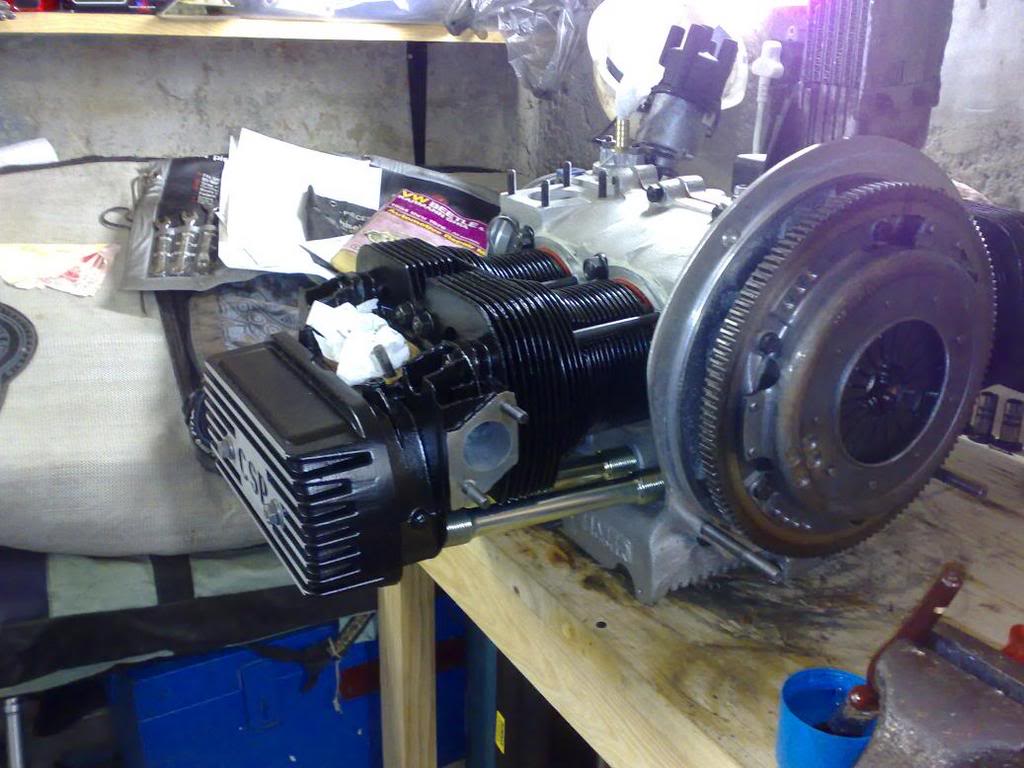 getting there....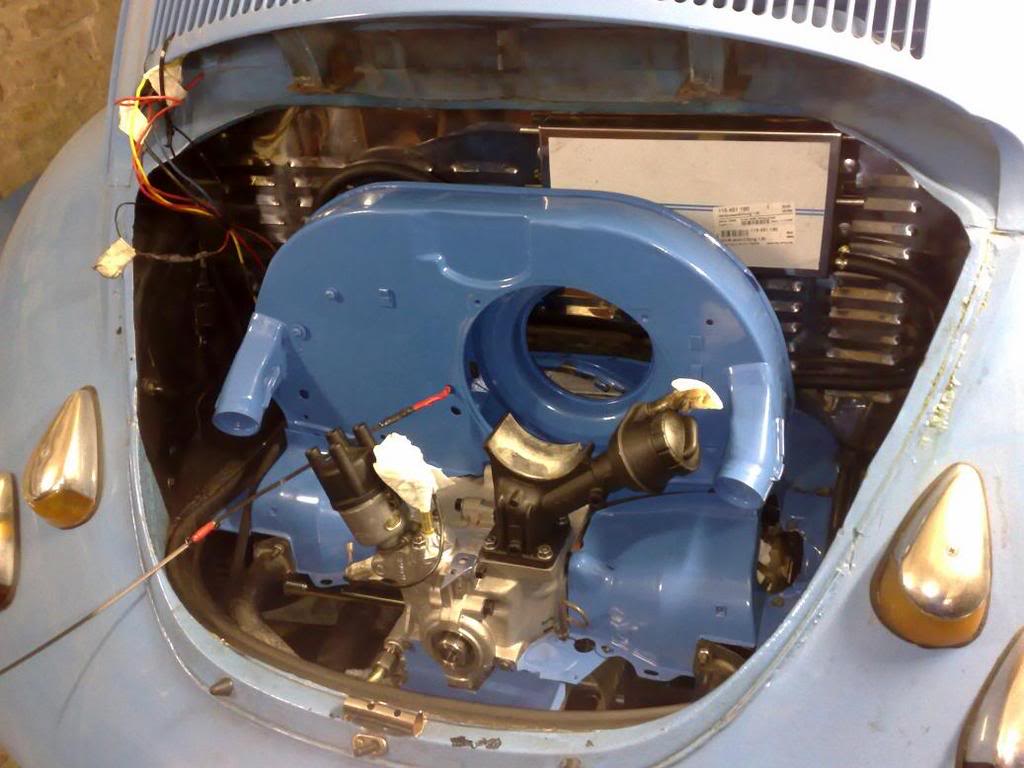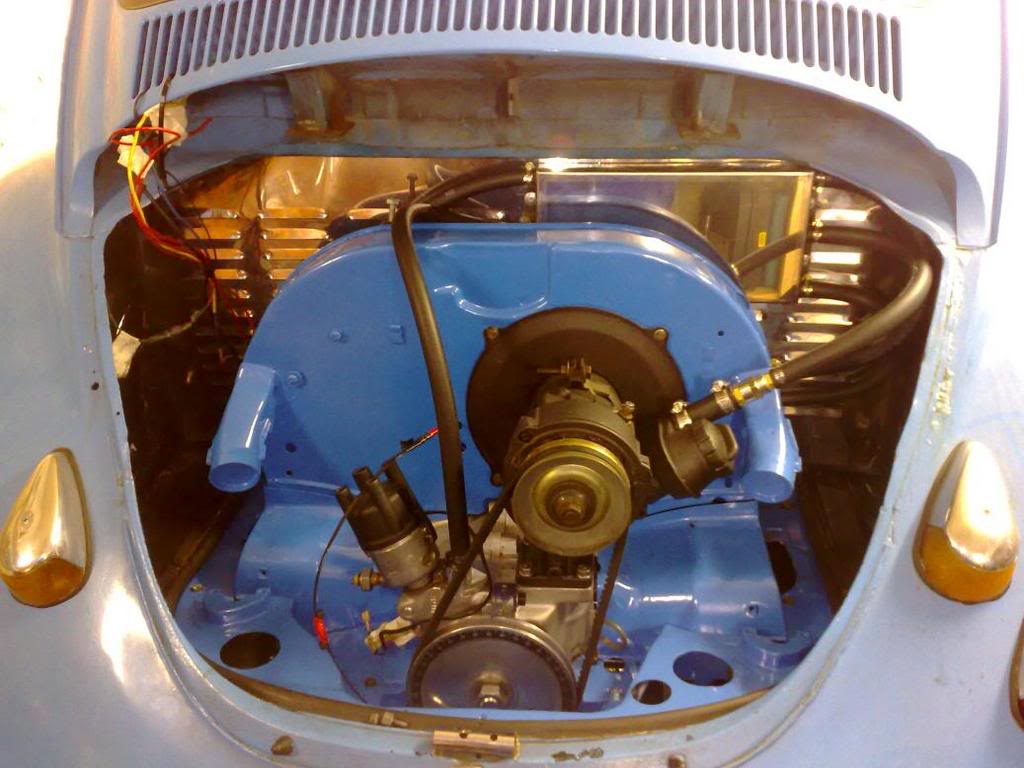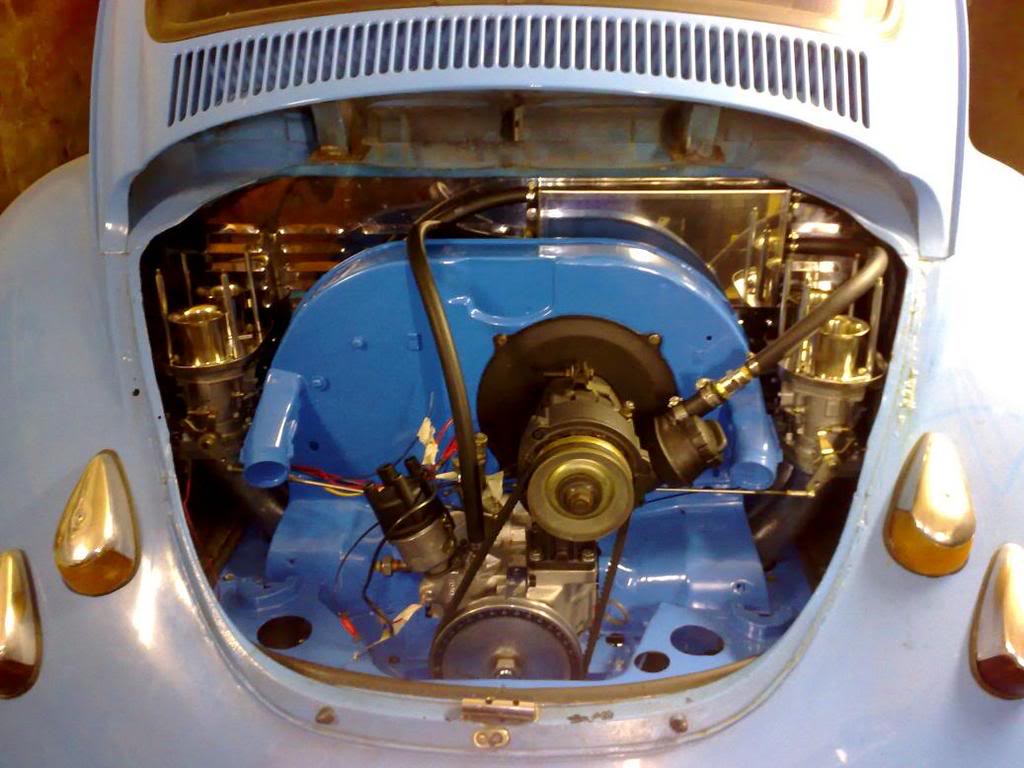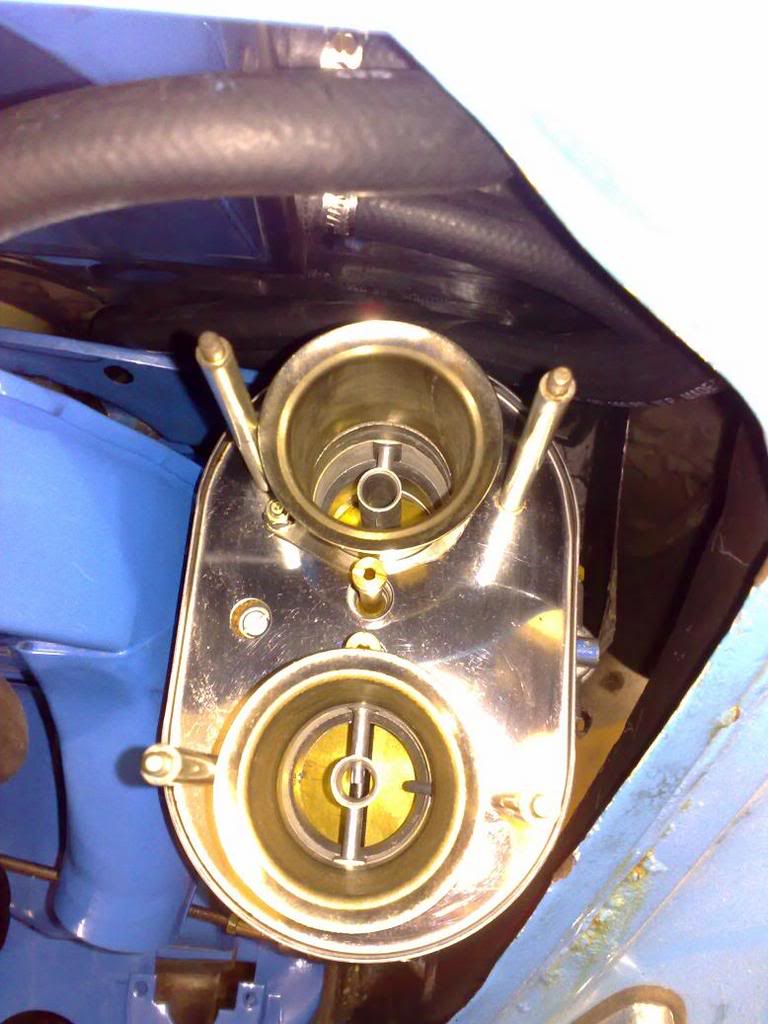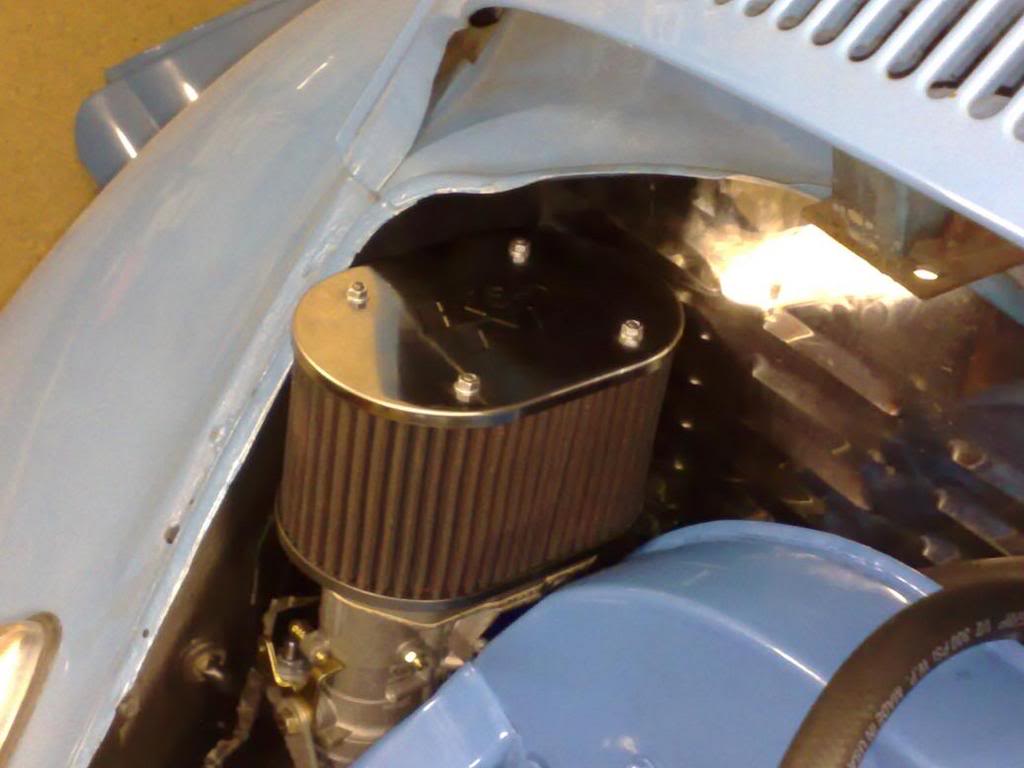 external oil filter, oil pressure sender and oil temp sender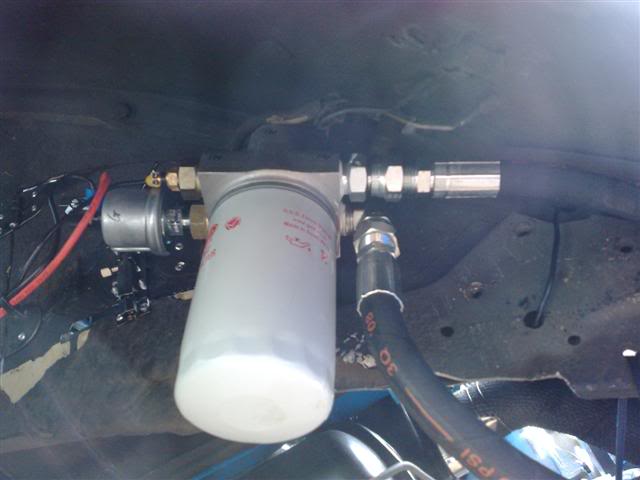 Oil piping lines - bottom pipe is from the oil pump out to the filter, higher fitting is the oil return back into the crankcase - oil pump, pump cover and crank-case had to be modified so all oil flows out of the case and then returns again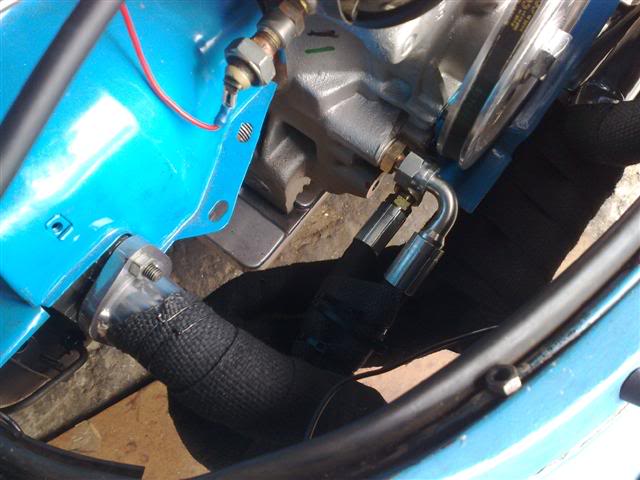 One of my favourite eye-candy items.... the exhaust.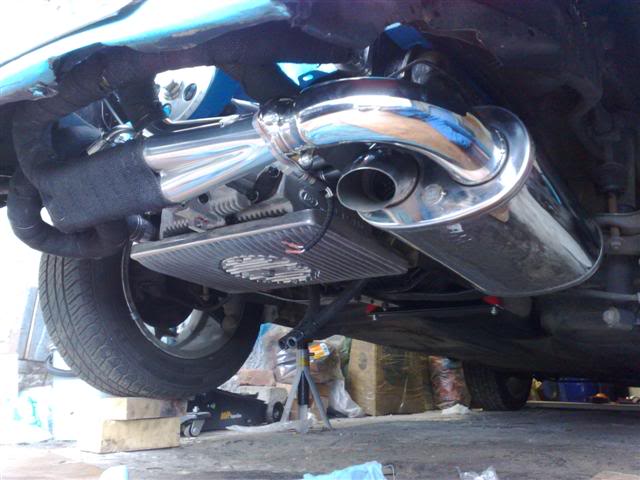 To cut a long story short... after I had run in the camshaft - which is done by priming the carbs, then removing the valve train and spark plugs and swinging over the engine on the starter motor until you have oil pressure. Then you reassemble it all and start. Immediately as she fires, get the revs to above 2500rpm and hold it there for 15 minutes... I kept mine at 3200 for 15 minutes, then 2500 for 5 minutes.
After this, I changed the oil and the filter and got into the drivers seat just to "feel" - I had no brakes, so couldnt drive.
FK me, the car revs quick!!!! check the video for proof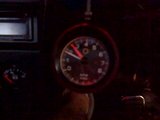 Since all this, I have managed to get the car running and have done 500km. Power is good for now. Carbs have been set super rich for running in. When I get home in Feb, I intend doing another few hundred km, then getting Jesse to tune the car properly. Then we will be laughing...
Well, I hope you guys enjoyed this writeup... I cant see straight anymore from all the typing and loading pictures....